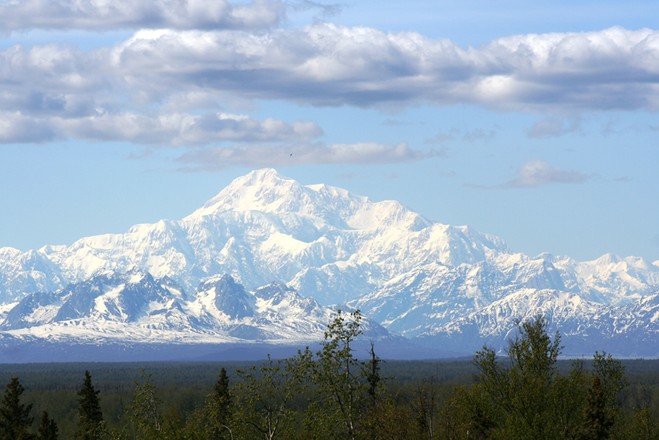 The photo of Mount McKinley in Alaska's Denali National Park (above) was taken by B & L Financial Architects Managing Director Kevin E. Baldwin, during a "meeting on the mountain" with top leaders in U.S. banking, insurance and finance hosted by The American College.
Kevin was so inspired by what he saw and experienced, that he returned to Connecticut determined to help people across New England to deliberately climb the financial mountain to their financial freedom.
To paraphrase a poem by Sam Walter Foss called "The Coming American,"
Bring me people to match my plains,
People with empires in their purpose,
And new eras in their brains.
Bring me people to match my prairies,
People to match my inland seas,
People whose thought shall pave a highway
Up to ampler destinies;
Pioneers to clear thought's marshlands,
And to cleanse old error's fen;
Bring me people to match my mountains,
Bring me women and men!
Whether you're a prospective client or a candidate interested in a career, B & L Financial Architects is looking for men and women with resolve and courage to face financial mountains and go about the challenging, step-by-step process of designing, building and maintaining solid financial futures.
Our passion is to create and protect the financial well-being of individuals, families and businesses. Our services include: income protection, investments, education, retirement, estate preservation, charitable giving and more. Please visit the pages on our website to learn more about us, tap into the helpful tips, tools and links.

Included on our site are a variety of easy-to-download, easy-to-print 8.5 x 11 PDF flyers, worksheets and PowerPoint slides.
Please

contact us today if you are willing to begin your climb to financial freedom!
See three options that may help you bridge the health insurance coverage gap between retirement and Medicare eligibility.

An overview of the potential benefits, limitations, and rules of Roth 401(k) accounts.

Discover how the step-up in basis provision may help reduce capital gains taxes and preserve the value of assets left to heirs.

Wondering if you can still write off 50% of the cost of business meals? Find out what is and isn't deductible.