Kevin E.
Baldwin*, CLU®, ChFC®, CAP®
Managing Director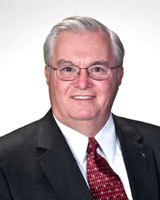 Kevin E. Baldwin is past president of the Alumni Board of Advisors of the American College, which serves 156,000 alumni. He is also past president of the Hartford Chapter of Society of Financial Service Professionals and has sat on the National Board of the Society of Financial Services Professionals.
Kevin has over 45 years of experience in the financial services marketplace. He has successfully built both a career general agency and a brokerage distribution channel. At MassMutual, Kevin oversaw the Field Training and Development department that resulted in increased recruiting, productivity and retention of new agents.
Kevin has served as a certified state CE instructor. He is an invited speaker at regional and national meetings of agents and sales management on practice building and client-focused needs selling. Kevin has coached many new agents and sales managers as they grew their practices and sales units.
Since co-founding B & L Financial Architects, Kevin has enjoyed a strong and growing relationship with the companies of OneAmerica®, a national provider in the insurance and financial services marketplace for more than 140 years based in Indianapolis, IN, with a business philosophy based on traditional values. He speaks regularly to individuals, families and business owners on the challenges of creating and sustaining a strong financial condition in volatile economic times.
Kevin has three grown sons and five grandchildren. Kevin and his wife Terry have lived in Hebron, CT for 40 years. He is a commercial pilot and certified flight instructor for over 45 years.
Kevin is passionate about ministry, serving as an elder in his church and a frequent bible teacher and guest speaker. Over the years, he has helped plant two local churches and a Christian school.